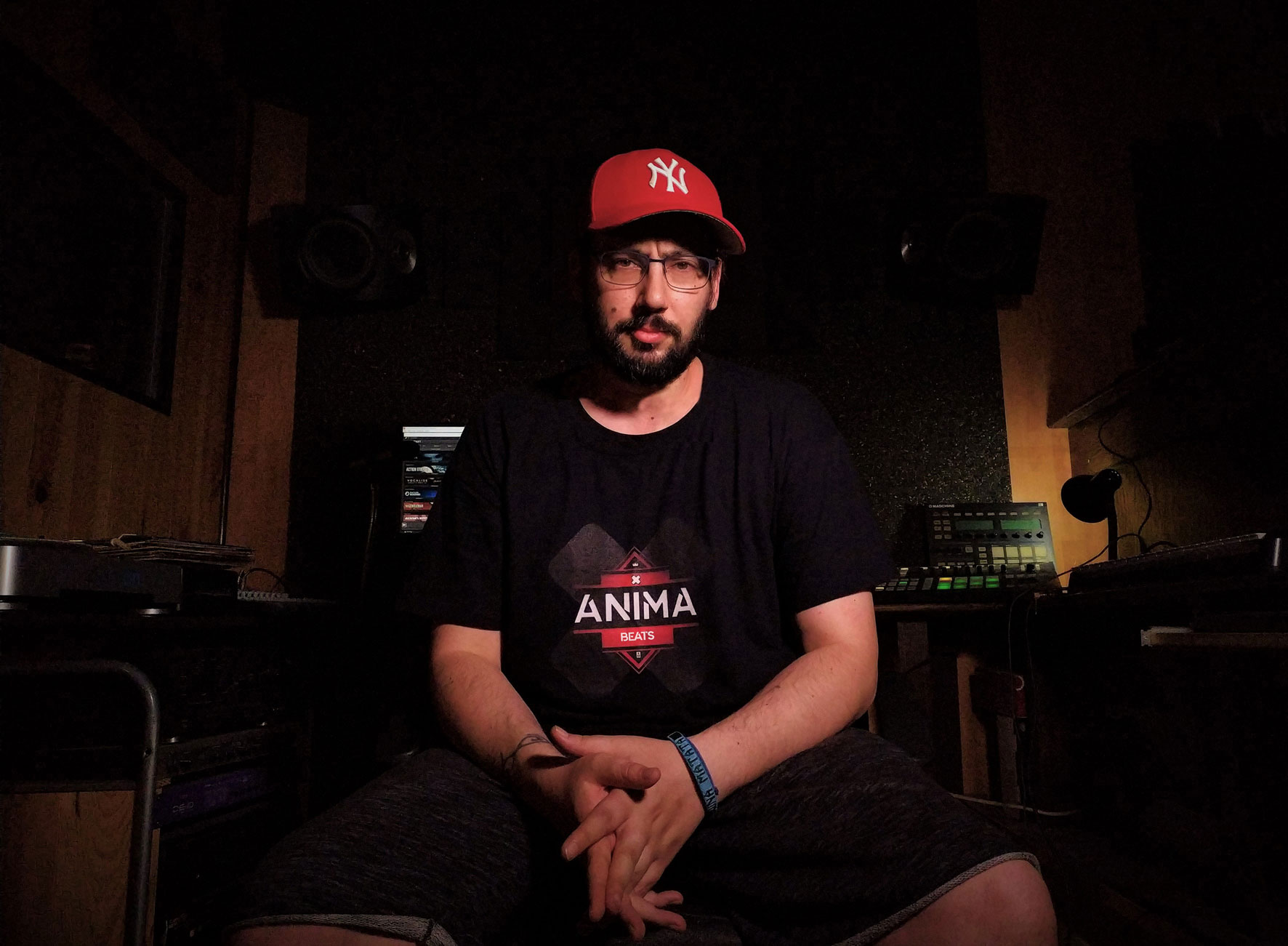 Xabi Pombo. Beatmaker, Productor Audiovisual, Artista y Técnico de Sonido
Haciendo música y amándola desde 1999 desde Vitoria-Gasteiz
Xabi Pombo (a.k.a. Anima X Beats) es un productor musical y mc nacido en Vitoria-Gasteiz, con casi 2 décadas de trayectoria musical a sus espaldas en la escena hip hop vasca. Iniciado en el metal, entre baterías, bajos, guitarras y amplificadores, unos años después comienza su incursión en la música urbana, desde donde conoce la cultura Hip-Hop, y junto a Iona y DeJotaeNe decide embarcarse en la aventura de formar el grupo Fuera De Lugar allá por 2004. Gracias a esto, comienza a dar los pasos iniciales en el mundo de la producción musical y la mezcla. De esta unión surge "En otro mundo" (2005) y "Ánima" (2008), título de este último trabajo que da nombre al estudio de grabación donde crecen proyectos propios y de otros artistas de la escena local, Anima Studios VI, así como a la marca Anima X Beats. Bajo el nombre de eFeDeLe a lo largo de su trayectoria han tocado por salas de Gasteiz y el Norte de la península, siendo teloneros de grandes grupos como The Coup, Narco, El Chojin, Hablando en Plata o Green Valley.  Tras completar sus estudios superiores como productor y realizador audiovisual, Xabi ha ido construyendo su propio camino en solitario con otras 3 referencias discográficas totalmente autoproducidas: Control Absoluto (2006), Ahora o Nunca (2010) y Xtracks (2015), ésta última en forma de miXtape, distribuida en 4 bloques mezclados por 4 conocidos djs de la escena hip hop en Euskadi como son DjNead, DJCanyn, DJLoro y DeJotaeNe. «Ahí fuera» es el segundo videoclip extraído de «Xtracks miXtape», con la colaboración de Maze en el estribillo.
A partir de este momento All eXhited se incorpora como dj de cara a las actuaciones en directo. Cansado de la dinámica habitual, y bajo la necesidad de escribir sobre música de otros, decide embarcarse en cuatrocadaveinticuatro, junto a Iona detrás de la cámara, escribiendo y publicando un corte cada día sobre beats libres en forma de oneshots. Inspiración instantánea.
En su faceta de productor en Ánima Studios VI, su música ha servido de inspiración y recurso para artistas como Kloy, Kódigo Norte, Fox (Autodidaktas), Res, Markés, Iona, Bawer, DanielBum, Pacazo, Yabo, The Gouss, Dada Flow, Tequila Collins, Puño y Letra, Conexión Directa y muchos otros… durante la última década de forma ininterrumpida. Además, el tiempo dedicado a aprender las artes del sonido le han llevado a hacerse cargo de la mezcla y masterización de trabajos para grupos como Mike L & Javi D, Kodigo Norte, Kloy, Bawer, Indarrap, Melophilia, Chalo VG, Mouad… haciendo de Xabi Pombo un nombre indispensable en el pasado, presente y futuro de la escena musical urbana en Vitoria-Gasteiz.
Si quieres ver los últimos trabajos donde he participado pincha aquí debajo
¿Quieres dejarme una reseña?
Hay muchas otras maneras de apoyar Anima X Beats. Suscríbete al newsletter y al canal de Youtube, hazte seguidor en Instagram, Facebook y resto de redes sociales, activa las notificaciones para no perderte las novedades y participa activamente en la comunidad online, dando me gusta, comentando y compartiendo las publicaciones. Si lo tuyo no son las redes sociales, cuéntale a tu gente. Todo ayuda a la difusión del proyecto, lo que se traduce en un mayor impacto del contenido publicado.
¡Gracias por tu colaboración!